Here are the twelve most ogled and googled articles on my site this month.
1. Gates of the Old City. A handy orientation to Jerusalem's Old City includes the history, geography, archeology and legends about its nine gates. A chart of the gate names in English, Hebrew and Arabic will help you navigate its ancient alleyways.

2. The ABCs of What to Bring on your Holy Land Visit From batteries to "holy" dress to a questioning mind to your sense of humor. Everything you need to make your pilgrimage a success without being overloaded with "stuff."

Photo: Gila Yudkin

You'll need enough digital memory to shoot these goats on your last day!

3 David was at Ziklag (on the periphery of Philistine territory) when he heard about the death of Saul and Jonathan. Scholars have been looking for Ziklag, for well over a century. Has it finally been identified? See photos.

Adapted from Bible Mapper by itsGila

Has Ziklag, David's Philistine base finally been identified?

4. "Let's hike the Old Jericho Road" traveled by pilgrims from time immemorial.

Photo: Gila Yudkin

On the Jericho Road there's room for just two...(looking west)

5. Veronica. According to a 14th century Via Dolorosa legend,Veronica wiped Jesus forehead with her handkerchief and his image stuck to the handkerchief.

Photo: Gila Yudkin

Facade of Station Six where "Veronica wiped Jesus' face"

6. Pool of Siloam. About the 2005 discovery of the authentic Pool of Siloam where Jesus told a man born blind to go wash off his eyes.

mid-19th century drawing

Photo: Gila Yudkin

Pool of Siloam called the Virgin's Fount

Wrong location of the Pool of Siloam

7. Was the famed Balm of Gilead actually from a tropical plant in En Gedi?

Courtesy of Wikipedia Comomons

The Balm of Gilead from En Gedi was a popular antidote to snake bites
-- could it have cured the coronavirus??

8. Let's pay our respects to Father Abraham in Hebron

Photo: Gila Yudkin

Herod's building in Hebron is preserved to its original height -- from 2000 years ago!

9. Handy Hebrew phrases. Ten Hebrew phrases which will help you connect with Israelis you will be meeting during your pilgrimage. As a bonus, some colorful local colloquialisms.

"Next year in Jerusalem!" | Ha Shana Ha Baa b'Yerushalayim

10. Cave of Adullam. After over three decades of guiding, Gila finally found David's hiding place in the Cave of Adullam

Photo: Gila Yudkin

The opening to the Cave of Adullam, hidden in shadow

11. Absalom was David's unrepentant rebellious son who according to folk tradition was buried in Jerusalem's Kidron Valley. "Let's throw stones at Absalom's Tomb" separates myth from fact.
12. Abel Beit Maacah. In June 2018, after five seasons of digging, excavators at Tel Abel Beth Maacah (also spelled Abel Beit Maacah) revealed a magnificent discovery found in a massive Iron Age structure dated to the ninth century BC: a five centimeter (two-inch) sculpture of a king's head. But which king?????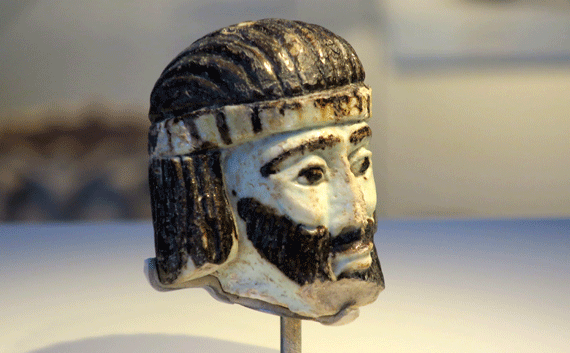 Head of King ???? found at Tel Abel Beth Maacah
Latest posts
It was on the eve of Passover that I received an email announcement from my brother. "Flatten the curve" appears in the Holy Scriptures. See "Let's flatten the curve proclaims the Prophet Isaiah" about the discovery of a seal inscribed with the name "L'Yesha'yah[u]" meaning "Belonging to Isaiah."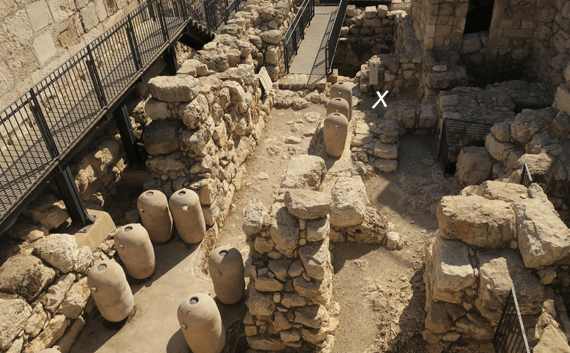 Photo: Gila Yudkin
The X marks approximately where the Isaiah seal was found near the Royal Bakery
"Let's find Ziklag, David's elusive Philistine base" describes Gila's search for Ziklag for over twenty five years. Has it finally been identified?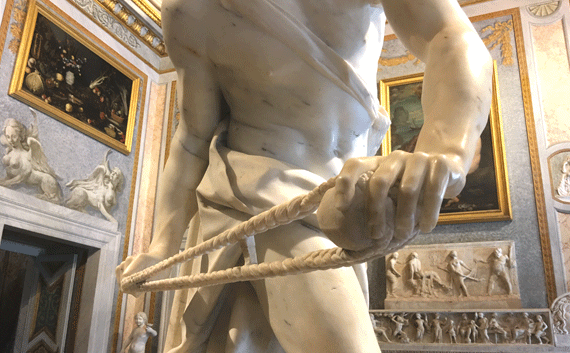 Sculpture by Bernini in Galleria Borghese, Rome | Photo: Gila Yudkin
After David slew Goliath with a stone and a sling he was a man on the run
"Spooked in Samaria" is a chapter from Gila's book in progress, Holy Land Haunts: Four Decades of Spirited Guiding. It describes the first dangerous dilemma Gila faced as a guide.