Mary of Magdala from whom Jesus had cast out seven demons had a surprising, very unbiblical role in author Dan Brown's best-selling fantasy, "The Da Vinci Code." In the aftermath of the success of the 2003 novel, Magdala, Mary's hometown a few miles north of Tiberias on the western shore of the Sea of Galilee, attracted a surge of curiosity seekers and cult followers.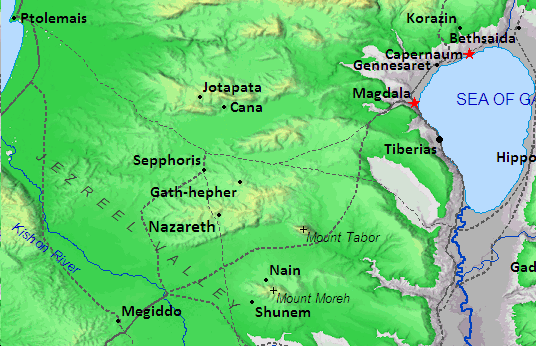 Copyright 2013 by Gila Yudkin
Map of Galilee showing prominent towns in Jesus' day
This may be one of the major reasons Magdala is now gated and off-limits to authentic pilgrims wanting a place to revere Mary Magdalene. Mary Magdalene is first named of the women who brought spices to anoint Jesus' body after the Sabbath. Some scholars even suggest that the unnamed sinner in Luke 7 who bathed Jesus' feet with her tears and then anointed them with ointment was Mary Magdalene.

In 2008 Magdala was excavated by Father Stephano de Luca of the Franciscan Order. His most noted find were perfume vials from the first century AD, found at the bottom of an ancient swimming pool.
"The mud-filled condition of the site allowed us to find these truly extraordinary objects, which were intact and sealed and still contain greasy substances," declared Father Stephano to an Italian paper. "We think these are balms and perfumes and if chemical analysis confirms this, they could be similar to those used by Mary Magdalene in the Gospels to anoint the feet of Christ.."
Father Stephano added that even if Mary Magdalene was not the woman of Luke 7, "it's very likely that the woman who anointed Christ's feet used these ointments, or products that were similar in composition and quality."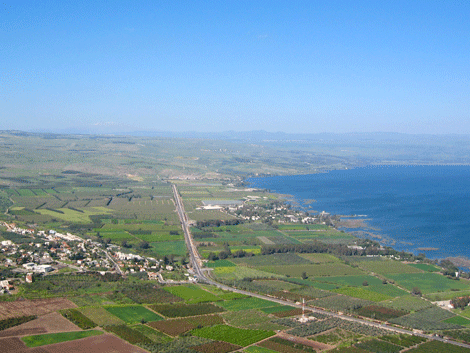 Photo: Gila Yudkin
Magdala as seen from Mount Arbel lies at the bottom right corner
It was nearby at the Magdala shore in 1986, that two fishermen from Kibbutz Ginosar carrying metal detectors in search of ancient coins discovered an old fishing boat. That fishing boat was believed to have been lying at a boat repair shop one first century AD winter when a flash flood gushed down towards the sea and covered the boat with sand. Since the discovery, that boat has been meticulously preserved and you may have seen it on display during your Holy Land tour.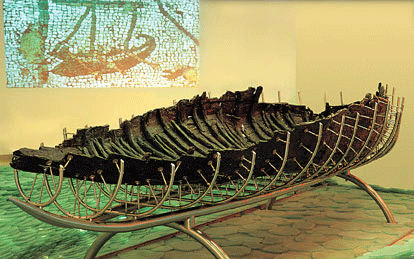 Courtesy of Jesus Boat Shop
First century AD fishing boat found by the shores of Magdala in 1986
Magdala at the time of Mary was a thriving harbor city, described by Josephus the Roman/Jewish historian as a place full of materials for shipbuilding and with many artisans. The Roman geographer Strabo wrote that Tarichae (Magdala's name in Greek which means the place where fish are prepared) excelled in pickling fish. Large quantities of pickled fish from Galilee were taken up to Jerusalem for the annual pilgrimage feasts when the city was crowded with pilgrims. Barrels of pickled fish from Magdala were transported around the Mediterranean.
But Magdala was destroyed during the revolt of the Jews against the Romans in 67 AD. According to Josephus, so many of the city's defenders were slaughtered, that the sea turned a color of bloody red. According to the rabbis in the Jerusalem Talmud, Magdala's defeat had been caused by the residents' immorality. The city never recovered.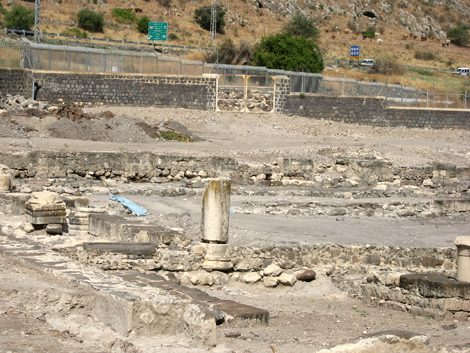 Photo: Gila Yudkin
Ruins at Magdala in 2009
In 2009, in exploratory excavations before the Pontifical Notre Dame of Jerusalem Center laid the foundations for a Magdala Center on the site, a synagogue was discovered from the Second Temple period, with its date ranging from 50 BC to 100 AD. According to the archeologist, Dina Avshalom-Gorni, this synagogue is one of only seven in the world dating to the Second Temple period.
But the real surprise was a stone found in the center of the synagogue. It's engraved with a seven-branched menorah set atop a pedestal with a triangular base which is flanked on either side by amphora (large storage jars). We assume that the artist who engraved the menorah saw the 7-branched gold menorah standing in Jerusalem's Temple.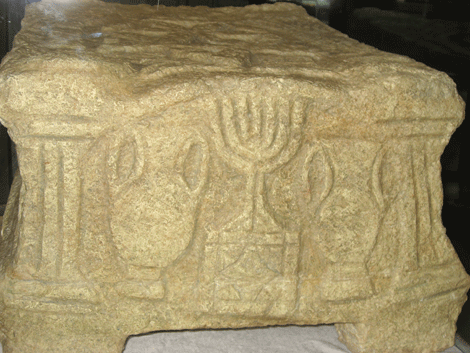 Photo: Gila Yudkin
Menorah relief found in middle of Magdala's synagogue of Jesus' day
And no doubt that Jesus, who was headquartered at Capernaum about five miles down the road along the shore of the Sea of Galilee, would have visited this synagogue!
Stay tuned as the building of the Magdala Center progresses and hopefully when it opens we will be able to drop by the synagogue in Mary Magdalene's home town. In the meantime, let's mention Mary Magdalene as we drive by her home turf on the western shore of the Sea of Galilee.
Copyright 2009, 2013 Gila Yudkin. Permission needed for any reuse.
Gila Yudkin, a holy land guide for over thirty years, is always on the lookout for new angles on ancient sites. She loves working with groups thirsty for biblical insight, archeological anecdotes and old-fashioned fun. She wishes she could have been Mark Twain's tour guide way back in 1867.
When American humorist Mark Twain visited the Holy Land, Magdala was on his itinerary. Tongue in cheek he vividly described being greeted by its blind, crazy, and crippled residents, all begging for baksheesh.
Then he wrote that he and his entourage "filed through the town with many exquisite frescoes till we came to a bramble-infested enclosure and a Roman-looking ruin which had been the veritable dwelling of St. Mary Magdalene, the friend and follower of Jesus. The guide believed it, and so did I. I could not well do otherwise, with the house right there before my eyes as plain as day. The pilgrims took down portions of the front wall for specimens, as is their honored custom, and then we departed."
Perhaps that's why Magdala's ruins are so sparse today! If you are a Mark Twain fan, or contemplating a holy land tour, see Mark Twain's Tips for Holy Land Pilgrims for travel tips relevant for contemporary holy land pilgrims.
In 1838, Edward Robinson, the Connecticut Yankee considered the father of biblical geography, visited Magdala while searching for the ruins of Capernaum, the headquarters of Jesus' Galilean ministry.